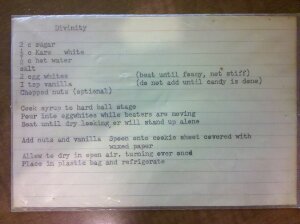 Another Holiday favorite of mine was Grandma's Divinity. Fluffy white clouds of sweet goodness, its truely divine. This one is a little tricky to make, the humidity has to be low, and I'm assuming this is why we only enjoyed it during Christmas. You can add any kind of nuts you like to the candy. My favorite is pecan, but I can remember Grandma used walnuts in hers.
Grandma Furnish's Divinity
2 cups sugar
1/2 cup white corn syrup
1/2 cup hot water
dash salt
Cook this to a hard ball stage. While the syrup is coming to temperature beat 2 egg whites until foamy. When your syrup is to temperature, turn the mixer back on (this is definately one for a stand mixer unless you're ultra coordinated) and slowly add the syrup to the egg white foam. Beat until dry looking (stiff peaks). Then add:
1 tsp vanilla
nuts, chopped
Spoon onto a cookie sheet lined with wax paper, and allow to dry in open air, turning over once to make sure the bottom is also dry. Once dry, place in a plastic bag and refrigerate.