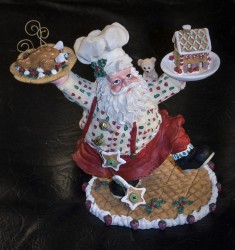 One of my favorite memories of the holidays is when my Mom would have my sisters (Joanne, you count here too!) over for the weekend for a baking marathon. We would make dozens and dozens of cookies and pounds of candy that we'd fill pails (big five gallon icing buckets recycled from the local bakery) to enjoy through the holidays.
I've tried to re-create this same thing with my friends from work. Its the "Annual Cookie Party". We pick a Saturday between Thanksgiving and Christmas, start early in the morning with mimosas (and coffee too) and snacks and bake all day, with a crock of soup on for lunch and order pizzas for dinner. I've been working hard the past couple weeks to get ready; the house is clean and waiting to be decorated this week for the party and the holidays.
This Saturday is the party. I can't wait to see all my friends and spend the day doing what we all like best. Creating some of the best treats and sharing good times together. The rules are simple. Pick one recipe and bring all the ingredients (minus flour, sugar and eggs…I get those in bulk because they're not easily transportable). Then we'll spend the day together…mimosas in the morning…Bloody Marys in the afternoon (This years recipe is called the Asian Mary) and maybe a bottle of wine or two in the evening.
Once we've all finished, we split up all the baked goods and have all of our cookies ready for the holidays. Maybe you can share my idea with your friends and make a new holiday tradition! Comment on this post and tell me what your favorite holiday memory is…
Thanks for the memories, Mom. ILYTIAB.
Hurry up Saturday…I can't wait to see you…and all my friends.