A real find…in Jackson, Mississippi. This beautiful little gem of a restaurant serves an amazing array of delicious items.
The restaurant has great style and superior staff (Thanks, Adam) that are very attentive without hovering. Any questions asked about the menu were promptly answered…and the wait staff was thorough enough to check with the chef when they didn't know first hand about ingredients and preparation.
I started my meal with Butter Bean Hummus and the "Redneck" Sausage and Cheese Plate. From their menu descriptions: "Butter Bean Hummus – crostini topped with baby butter bean hummus, fresh mozzarella, roasted red pepper and finished with a basil vinaigrette.   "Redneck" Sausage and Cheese Plate – A trio of country pleasin' boudin and andouille sausages served with our chef's selection of cheeses and Ritz crackers and Bone Suckin' Sauce for dippin'".
I'd never had boudin before and was not disappointed in the least. I've planned a quick shopping trip to their deli counter to pick up some boudin and andouille before I leave to take back home. The andouille had a grilled crisp skin, cut into coins perfect to dip in the Bone Suckin' Sauce before sliding on to a Ritz cracker. Just the right amount of spice, crisp skin and juicy texture…I think next to bacon, this is my new love. The boudin…what can I say, was amazing…full flavor and creamy texture. I've nothing to compare it to from anything I've ever had before. It makes me sad there's a weight limit on my checked luggage for the trip home. The cheese selection was equally amazing…perfectly paired with the meats. And dammit…who doesn't love Ritz crackers. Do they sell the sauce in gallon jugs? God, I hope so.
I love hummus and I like trying different beans for the base. Classically, you have the chick pea, and sometimes I will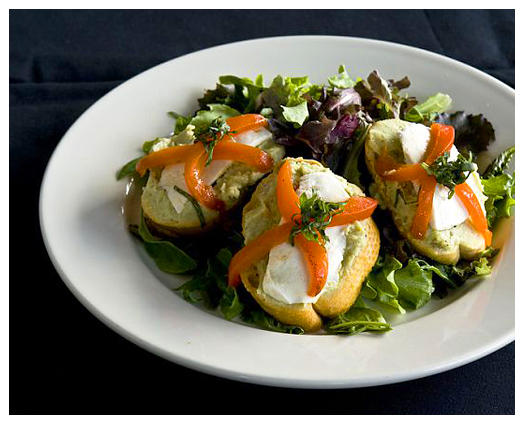 make my own with cannelloni beans. But Julep has hit another home run with butter beans. Creamy spread on crisp crostini…perfectly paired with fresh mozzarella. Pictured to the right, it's as beautiful to look at as it is to eat.
I know my visit was too short, I could really have ordered one of everything off the menu! I decided to have a healthy entrée (*cough*) so I ordered the Steak Salad. Here's their description: "Steak Salad – Our version of the classic "Black and Blue" salad made with beef tenderloin medallions, crisp romaine hearts, diced bacon, crumbled blue cheese and tomatoes. Served with a house-made range dressing". The beef cooked perfectly to order was fork tender. Their house made ranch dressing was a cool contrast to the sharp tang of the blue cheese. This was a perfect salad.
It was so sad that I'd completely filled up as I hear they also have an amazing dessert menu. If you get the chance, please try this restaurant…some of their other well-known dishes include: Pimento Cheese Fritters, Julep's Award Winning Fried Chicken (its honey rosemary glazed), Gulf Shrimp and Grits and Bone Suckin' BBQ Sandwich. Don't miss this place, you'll be glad you stopped.
(Photos from their site: http://www.juleprestaurant.com/)
Update 09222017 – Damn.
http://www.clarionledger.com/story/news/2015/10/05/julep-restaurant-renowned-fried-chicken-closes/73376418/