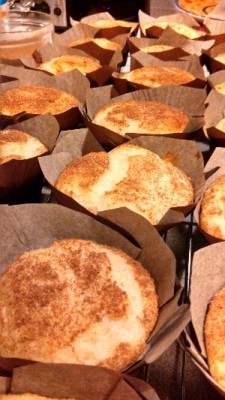 This recipe can be anything you want. Its a simple batter and you can add anything and everything to suit your mood.
It can be sweet, it can be savory, and its always good! Try some of my variations below and then create your own!
---
Magic Muffins
Ingredients
Mix together:
1 1/2

cups

sugar

4

ounces

butter, salted

room temperature
Add:
4

eggs

beaten

1 1/2

cups

greek yogurt

2 3/4

cups

self-rising flour

love White Lilly
Instructions
Mix following the above groupings.

Line a muffin tin with liners and portion out 3/4 full in each. Should make 1 dozen muffins.

Bake for 15 to 18 minutes.
Notes
Variations: Snicker Doodle: Add 1/2 teaspoon of nutmeg to batter, sprinkle top with 1/4 cup white sugar, 2 teaspoons cinnamon.
Chocolate Chocolate Chip: Add 1/4 cocoa powder to flour, reserve 2 tablespoons of cocoa/flour mixture. Toss reserved cocoa/flour with 1/2 cup chocolate chips and fold into finished batter.
Cheddar Bacon Chili Corn Muffins: Decrease self-rising flour to 2 cups, add 3/4 cup cornmeal. Stir into finished batter 3/4 cup shredded sharp cheddar and 1/4 cup very well drained Rotel Chilis. Sprinkle top of muffins with 1/4 pound of chopped crisp fried bacon.
Southern Blueberry Muffins: Decrease self-rising flour to 2 cups, add 3/4 cup cornmeal. Stir into finished batter 1 – 2 cups of blueberries. If you used dried blueberries, lean towards 1 cup. If you use fresh or frozen lean towards 2 cups. Fresh and frozen blueberries will increase the baking time almost half again as much (even more so with the frozen berries). They will be well browned on top by the time the batter cooks if you're using frozen.
Cranberry Orange Muffins: Reserve 2 tablespoons of flour. To the finished batter grate the peel of one orange and toss the reserved flour with 1 1/2 cups dried cranberries and add to the batter.
Banana Nut Muffins: To the finished batter stir in 4 small (2 large) bananas mashed and 3/4 cup toasted chopped pecans.