Jump to Recipe
---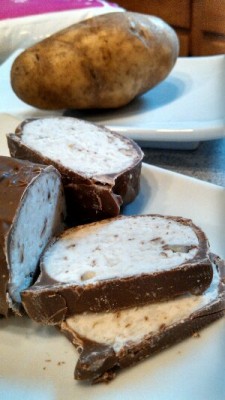 No one takes me serious when I tell them about this candy. My Grandma made this every year for me and my brother. And yes, it really is made with a potato. This is one of Grandma's unwritten recipes, although I'm sure someone out there has a written down version. Its extremely easy, and always starts a conversation. You should try it, I'm betting it'll be a favorite of yours too.
Mashed Potato Candy
Ingredients
1

potato, medium

baked in the microwave

1

tablespoon

butter

dash

salt

2

pounds

sugar, powdered

this is an estimate, you'll add the sugar till the texture is right. A wet potato will take more

1

cup

coconut, shredded

1/4

cup

pecans

I like to crush mine, Grandma always left hers whole

1

package

chocolate coating
Instructions
Cut the baked potato open and scoop out the flesh into a mixer bowl.

Add butter and salt.

Begin adding powdered sugar 1/4 cup at a time. At the beginning the potato will liquefy; but as you add more sugar the mixture will form a soft dough. The final dough texture should be soft but not sticky or gooey.

Add the coconut and pecans and mix until blended.

Form the dough into two logs and tightly wrap in plastic wrap. Chill in the refrigerator until completely cold and firm.

Melt the chocolate coating.

At this point, you can coat the logs whole, but I like to cut them in half because the little logs coated in chocolate look just like it's namesake…the potato.

Coat them in steps, starting with the bottom, placing the candy logs on a parchment lined cookie sheet to slip into the freezer to firm up (takes just a couple minutes) and then trimming extra chocolate along the way before dipping the next part.

Next, coat the ends, place back on the sheet and pop it back in the freezer. And finally coat the top and sides, returning to the freezer for one last quick chill and set.

Wrap the chilled and firm logs in plastic wrap, then in foil and store in the refrigerator.

Because the candy coating is brittle when it's cold, the logs cut best at room temperature, so pull them an hour or so before you plan to cut them.