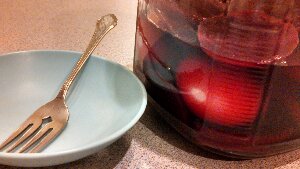 Some of Grandma's favorite dishes are recipes that weren't written down, or that were so well known that no recipe was needed. I'll toss in a few of those as I can, starting with one of her favorite make ahead dishes. This one is incredibly simple but does requires a little bit of planning. A few weeks before any holiday meal, Grandma would fix this up in a Tupperware storage container and stash it in the back of the fridge to wait out the event. Occasionally, we'd forget they were there and they'd not make an appearance at the meal, but Grandma didn't care…these were her favorites, she loved to eat them anytime.
She'd have her own canned pickled beets ready when she needed them; but if you're not gardening or canning, store bought are just as nice. And from experience…don't wear a white shirt when you dish these up…as much as you might try, you're bound to get a splash somewhere. And now would be the time to stash these beauties in the fridge, and they'll be ready for Christmas dinner. You'll be able to tell how long they soaked by how far into the interior of the eggs the beet juice has worked itself.
Pickled Beets and Eggs
6 hardboiled eggs, peeled
2-3 cans of pickled beets (about a quart of beets and juice)
Layer the beets and eggs in a tight lidded container, beginning and ending with beets. Don't drain the beets, adding all the juice is important to get the eggs to turn a brilliant scarlet color. Mix the container on a daily basis, because any eggs touching the sides of the container won't completely be colored. I discovered a shortcut if you're using a glass container. Using a fork slide a slice of beet down between the glass and eggs so that they are well hidden and submerged.
Serve  in a lovely open dish (Grandma always had a pretty cut glass dish for hers) along side all the rest of your cold holiday salads. You can leave the eggs whole, or slice them open for sharing. The color and taste are amazing, this is a simple but colorful holiday dish.
I can't wait…